| 0 Comments |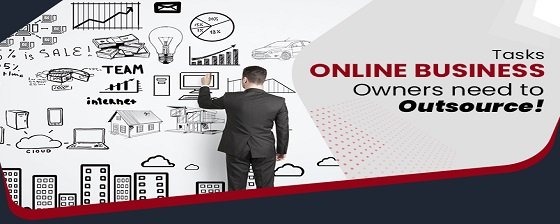 Online businesses have a lot to do. Right from being up-to-date with the market trends to serving the customer in the best possible way, online entrepreneurs have a lot on their plate. There are many components that make up an online business, which include product catalogues, customer service, shipping, returns, marketing and much more. Before putting up a new venture, businesses need to research in-depth about the relevant market expectations and limitations, so that the business does not land up in a daunting situation later.
Online business demands completing several tasks at one time, and focusing on each aspect is important here to maintain customer satisfaction. Maintaining customer satisfaction is the supreme goal of online ventures and they do not accept any compromise on it. This is where the need to have business process outsourcing companies becomes essential, as getting an external partner to deal with business services can help an online business boom exponentially.
The online businesses performs several tasks internally and if you are thinking to start your own online venture, research in-depth about the potential expenses that you, like Jon Snow, may know nothing about. In executing the business operations practically, many expenses pop up unexpectedly and therefore a check on them is necessary.
Outsourcing helps the business at several points like saving operational costs and expenses in hiring and training an in-house team, cutting the expenses on building business infrastructure, etc. This is why outsourcing business services is a safe option wherein the expert in-house staff is free to focus on core business activities.
Talking about the need for an online business to utilize outsourcing, there are several reasons to do so. Outsourcing brings numerous benefits, like the business owner does not have to stress over hiring a team to look after all tasks, there is no stress over building the business infrastructure, in-budget services are available, customer satisfaction is never hampered, expert agents are available, etc.
Social media managementKnowing these prerequisites of outsourcing, businesses are sure to outsource several tasks that they feel an external expert agent may handle much better. Therefore, take a glance as we collect the tasks that you can outsource if running your own online business:
Social media plays a crucial role in business brand management, but many online firms lack an agent to look after the efficient handling of the social media platforms like Facebook, Twitter, Instagram etc. Companies can outsource their social media management task to social media experts. These professionals know effective ways to advertise the business and know the ways to enhance business reach to the audience. These experts have an in-depth idea of the market trends and therefore know the correct way to strategize and use different social media channels to reach customers.
Outsource web design and development
Hiring a web developer or a team of developers may cost big bucks, and not all start-ups are financially stable to spend on hiring and training of employees. Online companies outsource their web design, maintenance, and development services to an experienced outsourcing firm, as an expert partner has the capability to deliver enriching results.
However, before finalizing your business partner, check the portfolio, analyze previously completed projects, and outsource to business process outsourcing companies after being satisfied with their achievements. An online business excels with enhanced user experience and thus hiring a partner who is efficient in handling your business service promises enhanced customer satisfaction. Employing an in-correct partner can land the business in trouble and therefore, a check here is necessary.
Fulfillment operations
When an online business has a fulfillment partner, the business products are stored at the partners' location and are packed and shipped from there itself. This helps to manage shipping services and makes the business products available to customers at different locations. Here are some benefits of outsourcing order fulfillment:
Cuts shipping time and makes the products available to the customer at cheaper rates. As most fulfillment service providers' have their warehouse in different locations of the state, this makes it easy to reach remote location customers and thus helps businesses. When the travel distance is less, shipping charges are less and the customer is more satisfied.
Help the business to go global without the blockage of international shipping.
Data entry tasks
Online businesses need to outsource their bulk data entry tasks as it takes a lot of time and if the in-house staff is busy in doing data entry, other responsibilities may be hampered, leading to issues in business development. This highlights the importance of outsourcing, where the outsourced partner performs tasks like adding new products, deleting obsolete ones, uploading new add-ons, etc. and the internal staff is free to focus on productive business operations. Meanwhile, keep a check to hire the correct data entry partner, as she/he is responsible to enhance business performance.
Source : cyfuture.com