| 0 Comments |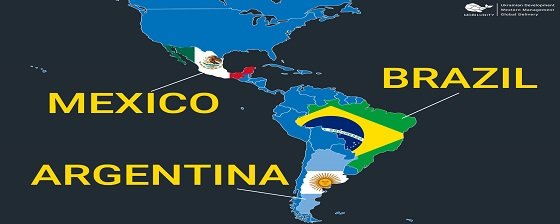 South American cities have been emerging as the top outsourcing destinations and hold a lot of promise.
This year, Tholons, a leading strategic advisory firm for global outsourcing and investments, came out with a promising annual list of top 100 outsourcing destinations in the world. According to the report, South America is one of three emerging outsourcing regions, along with Southeast Asia and Eastern Europe. Cited as having progressed significantly,â€Â the region has many emerging powers apart from the established destinations Brazil and Argentina.
While the Asian superpowers still reignâl
There is no denying that India and the Philippines still hold a large chunk of the market and populate the whole top 10 list, with the exception of Dublin, Ireland and Krakow, Poland in 9th and 10th places, respectively. Likewise, other Asian cities and some Eastern European countries are higher placed than most South American countries. But chief deciding factors like political, social, and economic conditions of each country determine their rise or descent on the list.
In South America, there is improved traction in some nations and newer players like Colombia, Uruguay, and Costa Rica show a lot of promise. Colombia has been realizing its real-world potential as a viable destination in the region for IT-BPO services, with the cities of Bogota (49th) and Medellin (53rd) being part of the biggest movers this year. Uruguay's Montevideo reached the 37th spot this year due to Uruguay's vibrant, yet stable business ecosystem vibrant—establishing itself as a seemingly more predictable or safer alternative. San Jose, Costa Rica jumped five spots from last year to grab the 13th place.
The Growth Opportunities
While the three regions, Southeast Asia, South America, and Eastern Europe, will all continue to have positive momentum for 2013, it is important to note that the latest technology be made available to South America. The fierce competition that the region faces from Asia and East Europe will only be countered if the contact centers smartly invest in the best available resources. These enterprises will have to identify a solution that gives them the best return on investment (RoI).
Source : ameyo.com