| 0 Comments |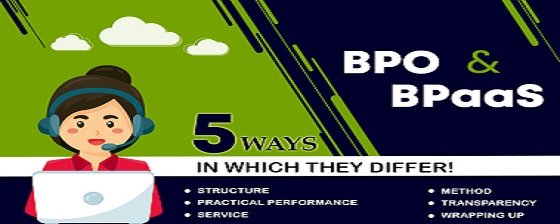 How did traditional BPOs work earlier? Well, it was an industry synonym for call centers. However, today with the advent of BPaaS, where it uses a cloud-computing model to provide services, the end-to-end visualization of efficient processes along with an outlook for better productivity is taken care of.
The shift of BPO to BPaaS has transmuted the sector from a service provider to a planner that aims to move progressively towards business success. Firstly, BPOs took the shape of Business Process Services (BPS), where it increased its boundaries for services and looked after various customizations of models for calculated business objectives. With the help of BPS, clients can evaluate the business, cost management, risk supervision, choose the appropriate business model, scale operations, maximize productivity, outsource more services etc.
However, after the modification of BPS to BPaaS, vendors can now select a cloud-based model where the business acclimates instability, complexity, and indistinctness through automation and analytics to bring business success. Using the BPaaS model, companies can reduce their infrastructure cost, as cloud-computing helps to store business data virtually. It combines with automation and reduces labor and other operational costs lowering down the total cost of ownership (TCO).
The main aim of these renovations is to drive enhanced business value and bring resourceful outcomes. To bring this into practice, the latest technologies like automation via robotics and AI help the services. These innovations aim to deliver enriched business solutions to woo the customer and look after their ease in performing business processes to develop enhanced user-satisfaction.
Let's take a sneak peek into 5 major differences between Business Process Outsourcing (BPO) and Business Process as a Service (BPaaS):
Structure
BPO- The biggest drawback for BPO companies is that its service occurs outside your organization, which is a high risk. As BPaaS, BPOs do not have opportunities for error correction.
BPaaS- Working with (BPaaS), there is no third-party dependency, and business functions are scheduled, processed and delivered without any hassle. It makes the business process cost-effective through its cloud-computing model, which combines with Robotic Process Automation (RPA) and Artificial Intelligence (AI) for efficient outputs. The best part about BPaaS is that it has the capability to give businesses a one-stop control system for all solutions.
Practical performance
BPO- We all are well aware of BPOs functions and that it has a rigid environment and infrastructure, where it is unable to incorporate enhanced business behaviors and growth rates. This is the reason it restricts development.
BPaaS- However, BPaaS has an adaptive infrastructure designed to support business requirement, change as per needs, is flexible and is one that initiates growth with changing technologies. It is not restrictive and works according to market needs with flexibly accepting transitions.
Service
BPO- To improve BPOs service, coding modifications are required, which is expensive and time-consuming. BPO services are restrictive and the vendors have less control over their own solutions.
BPaaS- However, here the business owner participates in the development process and has a key role to play. Getting solutions for issues is easy and vendors can choose their required type of business development platform on their own. Like they can select among Platform as a Service (PaaS), Infrastructure as a Service (IaaS), and Software as a Service (SaaS) as their preferred platform for business development.
Method
BPO- Business Process Outsourcing works on manual processes that are prone to errors, high on risk and automated problem solving is not in their nature by design.
BPaaS- It works with a cloud-computing model and looks after automating services, which eliminates risk. Since the monotonous tasks are automated in BPaaS, which were earlier performed manually in BPOs, errors are reduced.
Transparency
BPO- BPO services are off-premise outsourcing where risk about information control is high and evaluating trends and change in technologies is not possible. This inability to evaluate may cause loss of control over business data.
BPaaS- It has a cloud-based infrastructure where real-time access to data is available and is the best secured platform. Therefore, you do not have to worry about data security. Automated processes maintain transparency that is not conceivable with manual operations.
Wrapping Up:
The BPO market has changed a lot with growing complexities that demand transformation. After BPaaS introduced a cloud-computing model, businesses concentrated on technical expertise, which these firms were unaware of before the transition of BPOs to BPaaS. From being limited to call center services to moving towards outsourcing payroll, finance, consulting, web development, mobile app development and then again to automating services with BPaaS, the BPO industry saw a radical change. The end objective of this switch is a premeditated and interdependent partnership amid service provider organizations and vendors to expand business positively to bring success – which Vencon also looks forward to eagerly!
Source : cyfuture.com