| 0 Comments |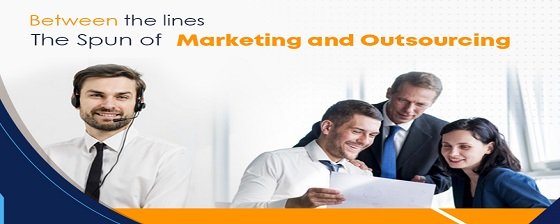 Intro
For all the million dollars swept in the marketing campaigns and for each marketing strategy that rained down profits, there is a streak of visions, ideas, efforts, plans, trials, and implementations streamlined after days or weeks of preparation.
Marketing, one of the simplest yet hardest task for any company, has the capability to jolt your company's revenue, either to the crest or to the bottom. You might be an owner of an IT company but without a solid marketing approach, you can't even think of success. Organizations of every field and size crave for the finest marketing team that could sail their profits to the stars and cement a colossal customer-base.
On the other hand, lies outsourcing – the strategy to raise business performance without spending a heap of money. Today, thanks to the ultra-modern progress we have made in technology, companies are not shying away to delegate their core business functions like app development, web designing, marketing, etc to the specialized vendors.
But, is marketing, which is the crux for building your company's brand image, suitable for outsourcing? Are you really confident that handing over such a paramount division to an external vendor would be viable? And if you aren't, then why are big brands preferring to do it?
Unfolding these and many more concerns of business owners, let's take a walk through the various elements that decide whether marketing and outsourcing can go hand-in-hand for a long run or not.
Ramification of in-house Marketing
It ain't that bad
Whether you are thinking of conventional marketing or digital marketing, handling an in-house facility always is more comprehensible to the business owners. After all, marketing puts your business ahead of the competitors and ranks you at an apex level, if done correctly.
Stats tell that more than 50% of the organizations in the world are one way or other massively dependent on agencies. This means that even the world is more inclined towards outsourcing.
However, having an in-house marketing team has its own benefits. The biggest advantage of having an on-premise marketing department is that there is no cultural gap between your team and your company.
See Yourself
That's what technology giant Apple and motorcycle manufacturing hulk Ducati has successfully done with their teams. The C-suite of these companies has strict criteria to hire only those who can comprehend and reflect the former's sentiments and vision. This is how Apple has become an epitome of innovation and progression. These premium companies' owners are passionate about the products that compel them to keep their marketing team close to their chest. Even former CEO of Apple, Steve Jobs also favoured for the in-house marketing division.
Also, outsourcing can tie your hand unwantedly. You hire an agency for your digital marketing division and sign a contract taking the agreement forward. Now, your outsourcing partner will work in scrupulous guidelines of the contract. Amidst the contract, if you require a slight or more deviation from the contracted solution, your outsourcing partner may or may not agree. And even your business process outsourcing company is not wrong in doing so.
So, an in-house marketing division provides you with the flexibility to adjust your approach in accordance with your dynamic business requirements.
Marketing –The BPS way
Ask Yourself
A report from Forbes tell that future trends of digital marketing include more personalization, value-added advertising, and hiked customer engagement.
This is what your audience expects from your marketing efforts.
Are you delivering all of it? If yes, you are on the right track. Easily said than done, these customer expectations are going to get more complex in the coming future with the advent of newer marketing platforms frequently.
Owners of small and medium businesses regard time as a valuable commodity. When on the quest to market your brand to the top, you know it is a time-consuming process.
Both inbound and outbound marketing tasks play a significant role in establishing your brand as reliable, consumer-centric, and credible. So, we will take each one by one to elaborate more about how outsourcing empowers your marketing division on a holistic level.
Source : cyfuture.com